*CSL Hex 1 System
HEX 1 ADVANCED features a 15w LED plus can remember a color programmed in DMX after a DMX controller is turned off.

System includes:
4 Hex 1 Battery Lights
4 Chargers
4 Remotes
1 SKB Lifetime Warranty Case
Total Weight 17 lbs. Lights/Chargers/Case

● LED 1 15W 6 in 1
● Lamp life: 6-10 ten thousand hrs
● Battery: 7.4V 3500MAH
● LED angle: 25 degree
● Color: 16.7 million kinds of color change
● IR Remote and OEM DMX wireless control
● Control channels: 6/10 channel
● Control mode: OEM Wireless DMX512, IRC, master/slave, sound active
● Automatic model: color change, color strobe, color dimmer, color gradual change/jump change
● Operation menu: LCD display (This fixture can remember a color programmed in DMX after a DMX controller is turned off)
● Up to 20 Hours with one color
● Weight: 3.3 lbs. ea
W-DMX available as a option

System Includes: SKB Life Time Warranty Roadcase with 4 Hex 1 Lights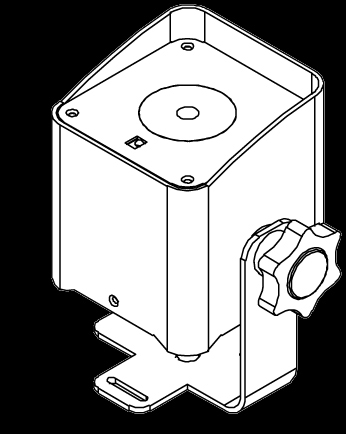 Operating Modes:
● Sound activation – The unit will activated by the sound signal.
● Static display – The unit will display the color in static way.
● Auto Mode - The unit will automatically chase through the different patterns.

Optional Rubber Coated Magnet

Dimensions: 2" x 1 1/4" x 1/4" thick
Hole Sized for #8 Screw
Material: Assembly of:
        Steel backplate,
        NdFeB magnet, grade N42, &
        Silicone Rubber Coating, Black
    Plating/Coating: Silicone Rubber
    Weight: 1.55 oz. (44.0 g)
    Pull Force: 38 lbs
    Brmax: 13,200 Gauss
    BHmax: 42 MGOe

This silicone rubber coated mounting magnet is another new, water resistant design - It allows for easy mounting with a common screw.

The best feature of these magnets is their high-friction silicone rubber coating.  When mounting objects to a vertical surface (i.e., a steel wall), these magnets are great for holding up objects without excessive or expensive magnetic strength.

These magnets are water resistant, but not strictly waterproof. The zinc plated magnets are encased in rubber, but a small area of steel is exposed. For more rust resistance, consider caulking the hole and your screw after installation.
Total Weight 17 lbs. Lights/Chargers/Case

Battery Uplight
Wireless Uplights
Battery & Wireless
Battery Operated Uplights
Wireless Uplighting Packages
LED Up Light
Wireless Battery Powered LED Uplights