Denon DJ MCX8000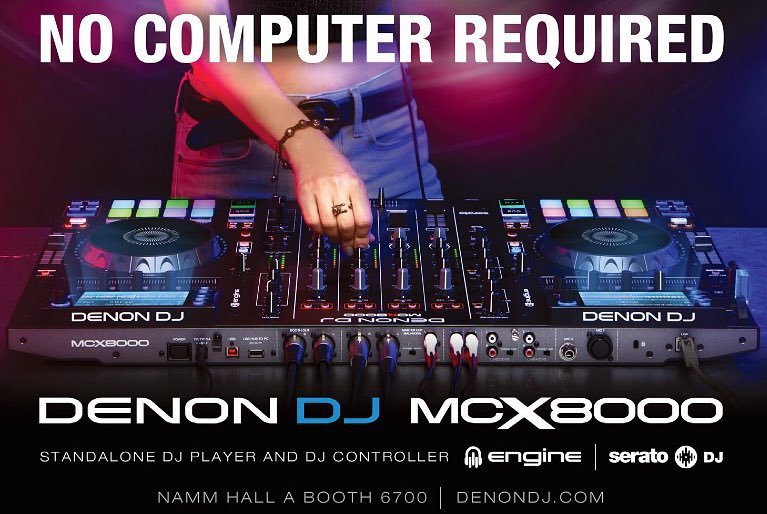 STANDALONE DJ PLAYER AND DJ CONTROLLER
No Computer Needed
Yes! Take command of the DJ booth with the all new standalone MCX8000 and transform an ordinary set into a full concert experience. Two hi-definition display screens control Denon DJ's revolutionary standalone Engine 1.5 software and Serato® DJ operation. It's fully loaded with a 4-channel digital mixer that comes with 3 built-in instant effects for Engine software and line inputs. The solid metal construction is buttoned-up with velocity-sensitive performance pads for cues, rolls, slicer and samples.
Built-in Engine Software
What is Engine? Engine is the exclusive revolutionary DJ software under the hood of the MCX8000 that enables you to perform without a laptop. This amazing software brings you front and center to play your sets with the ability to just use a thumb drive with Engine. Engine 1.5 software has many advantages once installed on your PC/Mac to create your playlists/crates set cue points and analyze your entire library.
Serato DJ Ready
You have the advantage of having the best of both worlds, since the MCX8000 is compatible with the latest Serato DJ software and enables you to use 4-channels. There is also a DVS upgrade package, giving the MCX8000 unlimited possibilities.
Hand-Off With Ease
Transition between two DJs with ease! There are no interruptions between sets as Engine software enables the DJ to either plug into the MCX8000 via USB or Serato DJ while in sync with the vibe. There are two USB ports for flash drives and around the back of the MCX8000 there is a powered USB port for external hard drive used with Serato DJ.
Sound and Effects Matters
Built with onboard sound effects and a 24-bit pristine sound, the MCX8000 delivers a high-quality controller with XLR outputs for both the DJ booth and PA system. To top off the amazing sound, there are three sound effects built in: delay, echo and noise.
Next Generation In High Performance Media Player/Controller
The MCX8000 is the only media player/ controller that has its own built-in software and interfaces seamlessly with Serato DJ. We propel the DJ into the next generation of high performance standalone technology (Engine) with high-definition screens, simultaneously run Serato DJ, and a solid professional grade 24-bit 4-channel mixer which makes you limitless.
Includes Denon DJ Engine standalone technology with integrated Serato Cue point support
2 USB inputs for Engine playback in standalone mode
Includes 4-deck Serato DJ software
2 high-definition displays show Engine and Serato DJ operation
Professional 4-channel digital mixer with 2 microphone inputs and Dual XLR outputs
3 built-in instant pre/post fader effects for Engine playback and line inputs
Velocity-sensitive performance pads for cues, rolls, slicer and samples
Stage LinQ network connection to control lighting and video
Serato DVS Upgrade ready
Metal construction
ENGINE SYSTEM REQUIREMENTS
MAC:
Mac OS X 10.8 or higher
WINDOWS:
Windows 8 or higher
PROCESSOR
Core 2 Duo (32-bit) or higher, at least 1.8 GHz
SCREEN RESOLUTION:
1280 x 720 or higher
RAM:
4GB
USB 2.0 port
SERATO DJ SYSTEM REQUIREMENTS
MAC:
Mac OS X 10.8, Mac OS X 10.9, Mac OS X 10.10
WINDOWS:
Windows 7, Windows 8.1, Windows 10
PROCESSOR
i3, i5, i7 (32-/64-bit): 1.07GHz
SCREEN RESOLUTION:
1280 x 720
RAM:
4GB
USB 2.0 port