ADJ's myDMX 3.0
ADJ's myDMX 3.0 is a multi-platform DMX control software/hardware system (Windows and OSX Mac compatible). myDMX 3.0 has a new, robust hardware dongle and exciting new features to take greater command of your light show.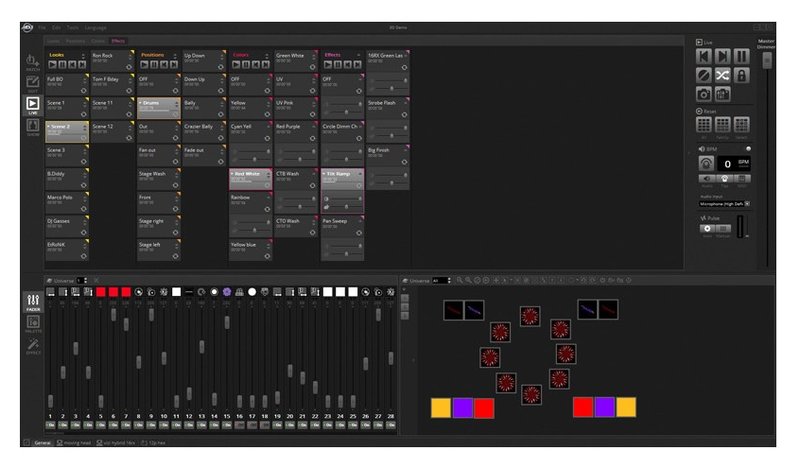 New Features:
• Play multiple scenes at a time
• Arrange scenes into groups
• Sound-light with BPM audio analysis and pulse analysis
• Live snapshots
• Live scene dimming and scene speed controls
• Stand Alone backup memory
• BPM tap
• Flash scenes
• Blind editing - edit scenes without outputting the DMX
• Fully compatible with myDMX 2.1 software
Classic Features:
• Easy-to-use DMX software
• 512 DMX channels
• Extensive fixture profile library
• SSL2 Profile editor & support
• 3D Visualizer
• MIDI triggering
• Drag and drop effects generator
• Works with simple scenes/steps
• Windows and Mac installers that will download the latest ssl library with an internet connection upon install.
• "Maintenance" application that installs with the program to check for component updates or new versions of the software.
• "Cloud search for profiles" Search for the latest and greatest fixture profiles from within the program itself, no more hunting through dropbox
• Barrel drum rotation added to scene builder
• Program now reads special characters such as '&'
• Improved multi Pan and Tilt support
• Users can now multi select steps in a scene and modify a channel parameter without it interfering with the rest of the channels
• Vast optimizations and stability improvements for both Windows and Mac OS
• Not compatible with ARM based Windows tablets (only Intel)